TuneReel is the proud partner in this year's ViewSonic contest for filmmakers – ColorPro Film Festival 2022!
ViewSonic is a global provider of new generation monitors for video artists, photographers, filmmakers and video game creators. 
Their ColorPro Film Festival invites video creators to showcase their creativity, connect with professional video makers, and win some incredible prizes by ViewSonic, TuneReel, Nomadict and Skillshare!
One of the main festival prizes is ViewSonic's ColorPro VP2776 monitor. In this article, you'll find a detailed review of this newest monitor model. Perhaps that's the monitor you've been dreaming about? Let's find out below!
***
The ViewSonic's VP2776 ColorPro is a 2K monitor designed for professionals who work directly with graphics and color, and this specialization shows immediately. Its WQHD liquid Crystal screen has a wide color range and comes with a Color Calibrator that helps you keep consistency and fidelity throughout your projects. It needs to be mentioned that it has a "ColorPro Wheel" that enables easy access to the OSD (On Screen Display) Settings and shortcuts to other apps.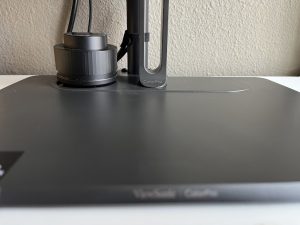 As expected from ViewSonic, and from a professional line, the monitor is really well built. Its stand is sturdy and heavy, but also very stylish. It has been engineered to hold the weight of the monitor and allows for easy manipulation and adjustment of the height and angle. And putting it together is literally a snap: we broke it apart and changed desks in less than a minute. This is because the stand has a latch to unhook it from the stand.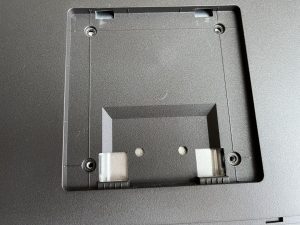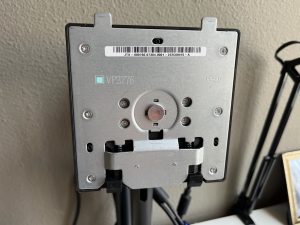 The stand has a 130mm height adjustment, 120 degree swivel, -90 to 90 degree pivot and a -3 to 21 degree tilt adjustment. It also comes ready to be mounted on a VESA rack/mount (100x100mm), if preferred. The screen itself doesn't have a bezel, which gives it a very clean and modern look.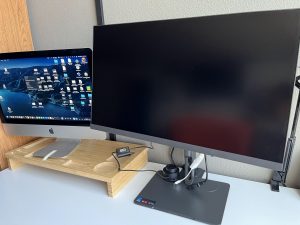 With a resolution of 2K QHD (2560×1440), this monitor is meant to be a workhorse that will help you build up your project without demanding excessive resources from your system. At 27", 2k is more than you need to get a sharp, clear image. This means that your system can work faster and more efficiently without losing visual quality. The 2K resolution is very sharp and it won't encumber your system with heavy image rendering. This allows you to do the bulk of your work with a good sense of what the final product will be. So, if your company is just starting, this might be the only monitor you would need.
Geared mostly for video and graphic design, the focus of this unit is to accurately reproduce the colors of the picture you are working on. And it does it very well. This monitor shows an incredibly accurate representation of how your project will look when printed or projected on a canvas or wall (movies). This is because it has an incredible  DCI-P3 color coverage, so it is using the same color space as a theater's projector. Its color matching is Pantone validated, which helps you understand the standards used in regard to its accuracy.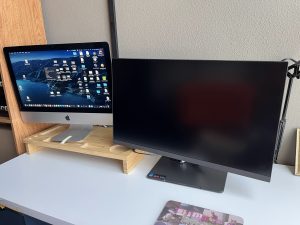 And talking about movies, at 165Hz, the refresh rate is also helpful for video professionals as it is high enough to refresh the image much faster than the most commonly used FPS of 24, 30 or 60. This is another advantage of its 2K resolution: Even with video shot at 60 FPS, it can process it with less work and energy. Thus, your video will look great regardless of its FPS, even if you try shooting faster.  Basically, even if you needed to shoot a slow motion video at 160 FPS, you could play it at normal speed without a problem. This makes the playback of media very smooth and clean. Compounded with the Nano IPS panel and its color range, this monitor is ready to be put to work in any post production house. And don't be surprised if you find your editor/colorist playing some graphics-heavy video games, as this monitor can handle them easily.
It may be implied, but it should not be omitted, that the sharpness and brightness of the image is what you would expect in a professional monitor. This is something that I almost forgot to mention because the expectations in a professional environment are very, very high and I expected no less from this screen. Still, this monitor met and exceeded those expectations. 
As if all that wasn't enough to make this monitor a top choice, it also has a lot of connectivity. With its HDMI  ports and the DisplayPort, you can connect up to 3 devices (computers). And you can add a fourth device with a USB-C connector, as one of them can handle video. The other USB-C (marked as 5V/3A) can handle data delivery and power transmission to other devices (like mobile phones – as they connect to the computer as a daisy chain through the monitor). This connectivity really lets you use the monitor as a dock to which you can just plug your laptop in order to access your desktop. Also, because of this multiple connections, the VP2776 can become a KVM (Keyboard, Video, Mouse) system, with two computers sharing the mouse, keyboard and screen as one system. 
In regards to accessories, the VP2776 comes with a magnetic hood and the ColorPro Wheel. The hood easily attaches to the edges in order to prevent light bleeding and it is incredibly helpful in bright environments or when you need to focus. We didn't know how much we needed it until we started using it. 
"I didn't know a hood could be so effective in blocking the glare."
– Idan Santhaus, TuneReel's co-founder
The wheel is a convenient way to navigate the OSD and it can't be overstated how badly other monitors need it. Yes, nobody is changing the settings of their screen every day, but it can really be a pain in the neck when you do. Either reaching behind the equipment or simply having to press hard and waiting for a reaction, the interaction is never pleasant. The wheel's responsiveness really makes it simple and painless. To make it even better, the wheel can be programmed to interact with some of your production programs making it another organic tool that you didn't know you needed.
Also, the wheel has a lens that can be revealed when removing the cover that serves as the base. This lens allows you to capture or match colors from external sources. This is why the Pantone certification is relevant: the whole system is meant to faithfully reproduce the colors as you see them.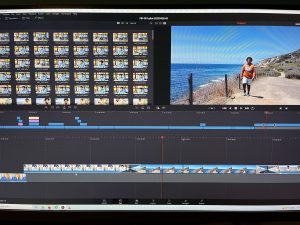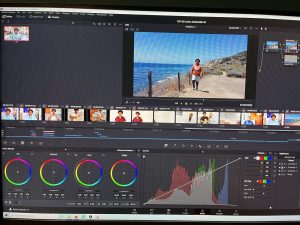 We added the monitor to one of our stations and used it with DaVinci Resolve to edit and finish some videos. And it was great to have a monitor calibrated for the task. The footage showed its quality and the colors were something else. It wasn't only that the image was good and sharp, the quality overall was great. The skin tones and textures popped nicely. And yes, our editor played some games after work and he reported to be very happy with its performance.
"The colors are what got me. I'm gonna use this monitor from now on."
– Idan Santhaus, TuneReel's co-founder
As you can see, this monitor is meant to be an all-in-one solution for graphics, photo and video professionals who are seeing their business grow and can't afford to limit themselves. If you are stepping up your game and need to make sure you and your clients can say "What you see is what you get," you can't do with anything less. The image quality, the connectivity, the color profiles and the tools to match those colors make this monitor a must have.