Resolving YouTube Content ID Copyright Claims
First, don't worry. Your video is safe, and so is your monetization.

Don't delete the video. This can be easily resolved.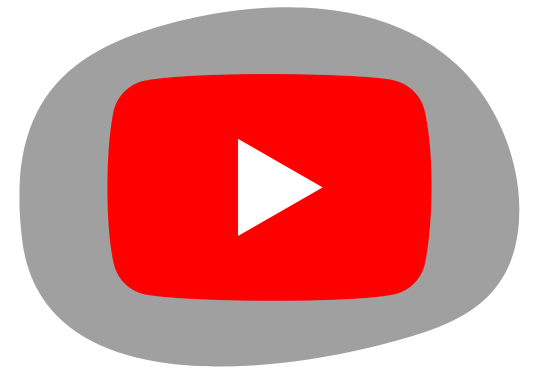 If you licensed a track with TuneReel – you're covered, and TuneReel will remove the claim for you!
Visit TuneReel's YouTube Copyright Claim Removal page to get started.
Can I fix it myself?
Google/YouTube shows you how to dispute the claim in these guidelines: Dispute a Content ID Claim.
When you get to the box that asks you to explain your claim, write: "Licensed via TuneReel" and add a shareable link to the PDF of your license agreement.
To download your license agreement, go to your Orders page and click on "Download License" of the relevant track.
Tip: To make the license agreement PDF shareable, upload the file to a service such as Google Drive and make sure "Anyone with the link" can view the file & then double-check that anyone can open the link and see the PDF.

See screenshots below for a quick step-by-step tutorial on how to dispute your YouTube copyright claim.
What if YouTube doesn't release the claim after my dispute?
Usually following the steps will suffice, but if the claim has not been released within 24 hours, fill out the form on our YouTube Copyright Claim Removal page and we will ensure it's resolved as promptly as possible!
Am I in trouble?
No. Not at all. A Content ID Claim is NOT a Copyright Strike. Copyright Claims do not affect the status of your YouTube Channel in any way. and while the video is under dispute it can still get monetized, and funds held during that time will be released at the end of the dispute process.
Why does this happen?
In an attempt to limit piracy, some artists on TuneReel may have registered their music on a Content ID system to monetize videos that use their music without consent. This allows us to offer you high-quality music from very talented musicians, though every now and then you may see a copyright claim (which is easily resolved) on one of your videos.
When you license a track on TuneReel you are granted the right to use the music in your video, but YouTube may not know that you properly licensed the music and serve you with a copyright claim.
---

So again, you can easily dispute the claim yourself via YouTube – or have TuneReel do it for you.

We're here to help!

---
Step-by-step tutorial on how to dispute a YouTube copyright claim

Before you proceed with this, make sure you acquired a valid license from TuneReel for the music track in question.
Step 1
Hover over the words "Copyright claim" and click SEE DETAILS to start the dispute process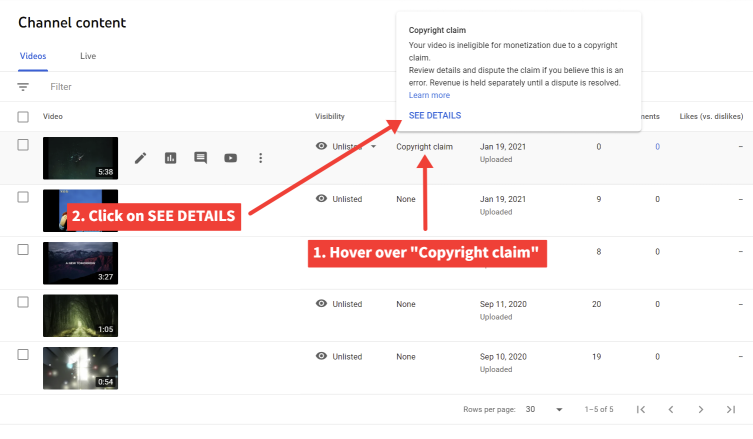 Step 2
Select "My dispute isn't based on any of the reasons above. I would still like to dispute this Content ID claim"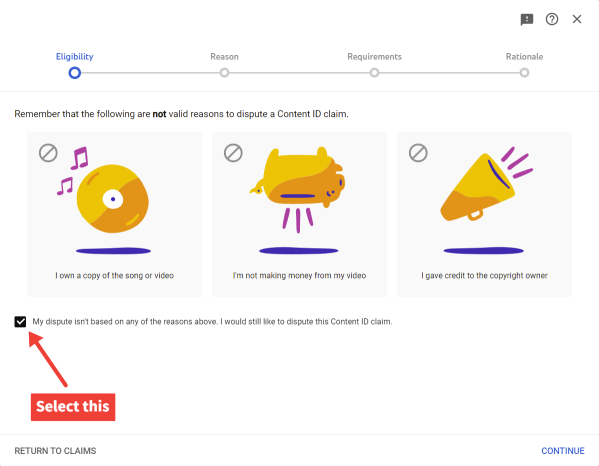 Step 3
Select "License" as the reason you're disputing this claim.
You aquired a license from TuneReel, which grants you the right to use the track in your project.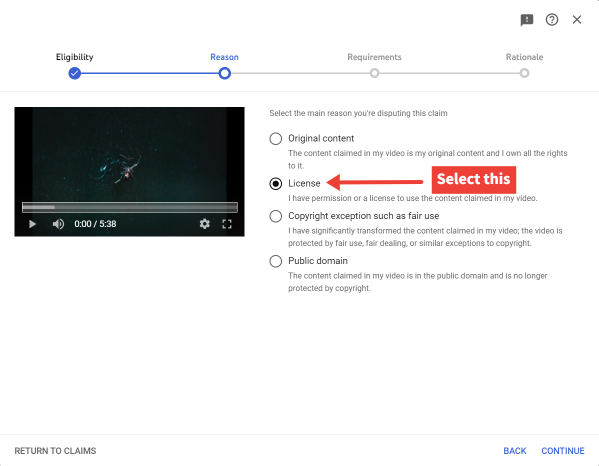 Step 4
Select "I have permission to use the content from the copyright claim"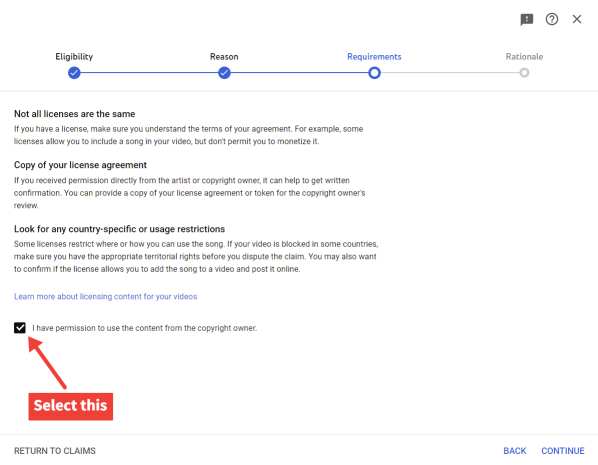 Step 5
In the license information write "Licensed via TuneReel" and add a link to the PDF of your license agreement. (Load the PDF to a tool like Dropbox/Google Drive and get a public link to paste.)
Select all 3 options as long as they are true:
"My video does not infringe anyone's copyright."
"I understand that the claimant will be able to review my video and my dispute rationale."
"I understand that filing fraudulent disputes may result in termination of my YouTube account."
(As long as you acquired the license from TuneReel there's nothing to worry about. Your account is not in jeopardy.)
Sign your name by entering your full name in the Signature box.
Click SUBMIT when ready.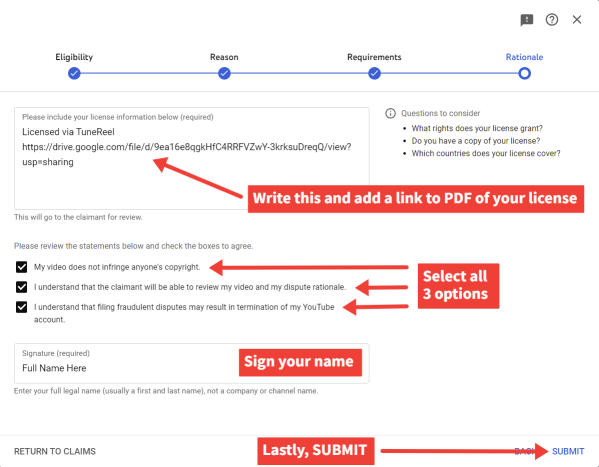 That's it!
If it doesn't get resolved within 24 hours, please reach out to TuneReel.